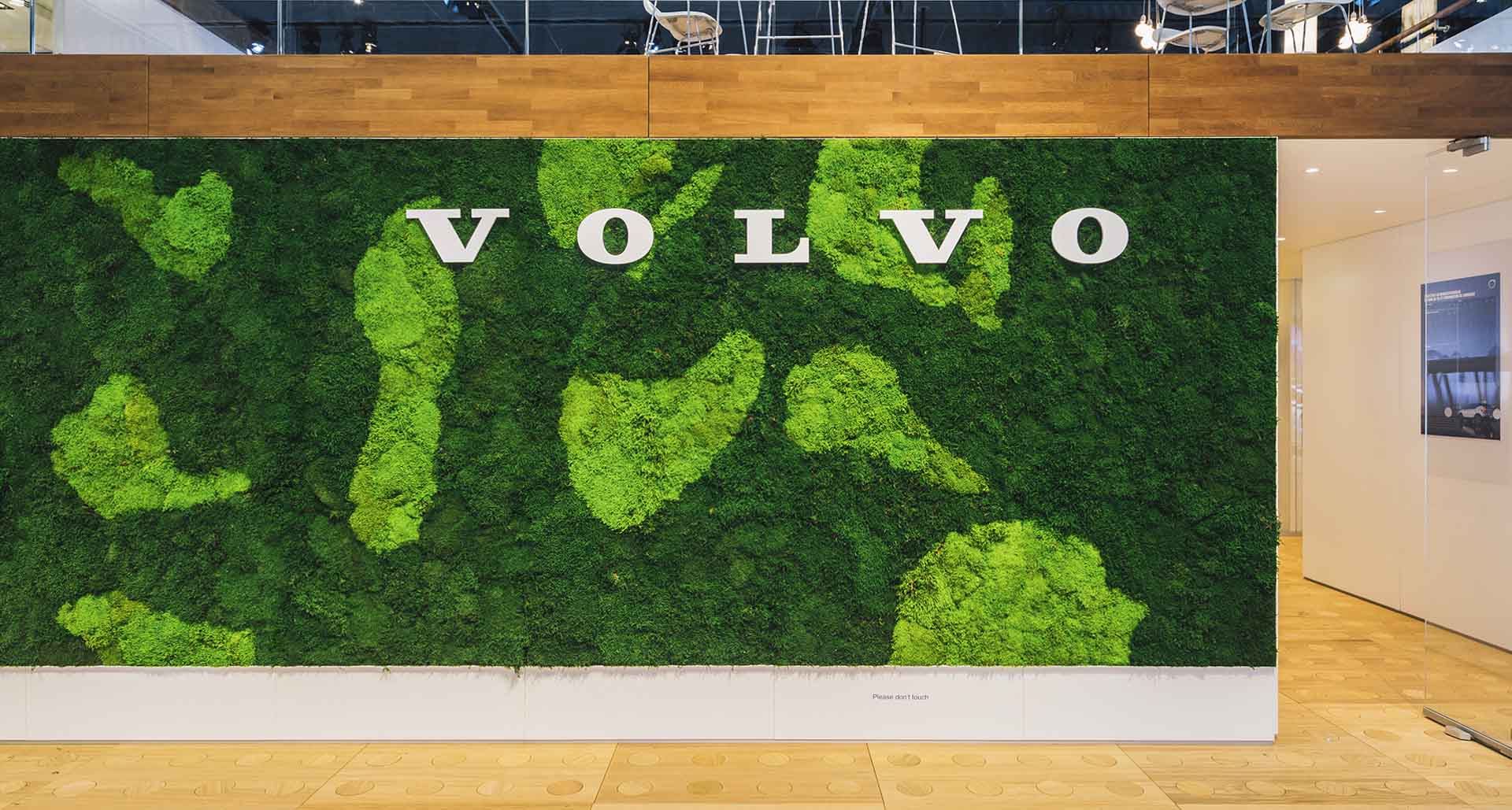 Your logo or company slogan made of real moss is a guaranteed eye-catcher. Whether you greet several hundred customers a day or you "just" share the office with your employees and colleagues: Moss in interior design makes a statement. There are almost no limits to the implementation of your ideas. You benefit not only from the unique look and feel, but also from the many positive properties of our mosses. Larger green, natural areas have a calming effect on the body and mind. In addition, our moss improves the indoor climate and absorbs sound.
Today we present three variants of how you can design your personal logo. So why not combine the beautiful with the useful!
RUSSIAN PREMIUM ISLAND MOSS AS AN ALL-ROUNDER
FOR YOUR LOGO DESIGN
Our delicate, fine-grained flakes are especially well suited for more intricate, detailed logos and lettering. The only important thing here is that your finished logo should not be too small. On the one hand, the font may then become blurred – this happens very quickly, especially with very curved fonts. On the other hand, your moss logo also "lives" from the unique structure and look we achieve with our flakes. The individual letters or elements are milled out of wood and then carefully mossed by hand. Did you know that you can currently choose from 13 different colors in our Russian Premium Island Moss? This makes it possible to design logos and graphics in your company colors.
TWO-DIMENSIONAL LOGOS & GRAPHICS
We can also implement larger and wider fonts or more two-dimensional graphics with different types of moss. Our Russian Premium Island Moss is also particularly suitable here. But also with bale moss or the flat forest moss in different shades of green, you can create extraordinary creations.
LOGOS MADE OF WOOD, ACRYLIC OR OTHER MATERIALS INTEGRATED IN A MOSS WALL
A completely different variant of CI branding is the use of milled logos made of wood, acrylic, cork or other materials. Your lettering, logo or individual letters are precisely milled out by our professionals and attached to a moss wall or image using spacers. For unusual materials, please contact us, together we will check your idea for feasibility. Again, do not choose the corresponding image or the background area to be mossed too small, so that the writing does not blur or get lost in the splendor of the moss.
Your finished logo is completely maintenance free! That is, it does not require watering or pruning. Due to our special pressure preparation process, the moss is completely preserved and therefore has slight antistatic properties. That is why it attracts almost no dust and remains fresh and beautiful for a very long time. By using high quality cosmetic dyes – all our mosses are completely dyed through – we can even give a 10-year freshness guarantee.
Curious now? Then order your free MoosMoos catalog now and get comprehensive advice from our moss professionals. We are looking forward to your inquiry!