Moss wall in a jungle style or in a combination with plants – "A little trip into the green"
Our moss walls in a jungle style or in a combination with plants imitates an unmistakable wild jungle. Every view on a fairy-tale picture of nature with its unique appearance will take you for a relaxing walk. Tropical plants create interesting accents and inspired us to this individual appearance. We connect esthetics with a need of harmony with nature. This way we create an individual style of your interior. With a great offer of combined possibilities, it's possible to imitate different types of life environment in pictures or in wide space wall tiling.
100% nature
Our moss tiling in a jungle style or in a combination of moss with taxidermized plants are made of 100% real which we harvest ourselves and with regards to its long-lasting sustainability – with love to nature!
The highest color brilliance
Our moss tiles are available in different cosmetic and color-sustaining variations. To reach maximum relaxing purpose for the body and soul, we recommend apple green and moss green colors.
Natural features
The appearance of our moss is unique! One of its natural features is the noise regulation. That ensures pleasant acoustics in the room. To that it regulates air humidity in the interior. Next to all these preferences it's 100% maintenance free.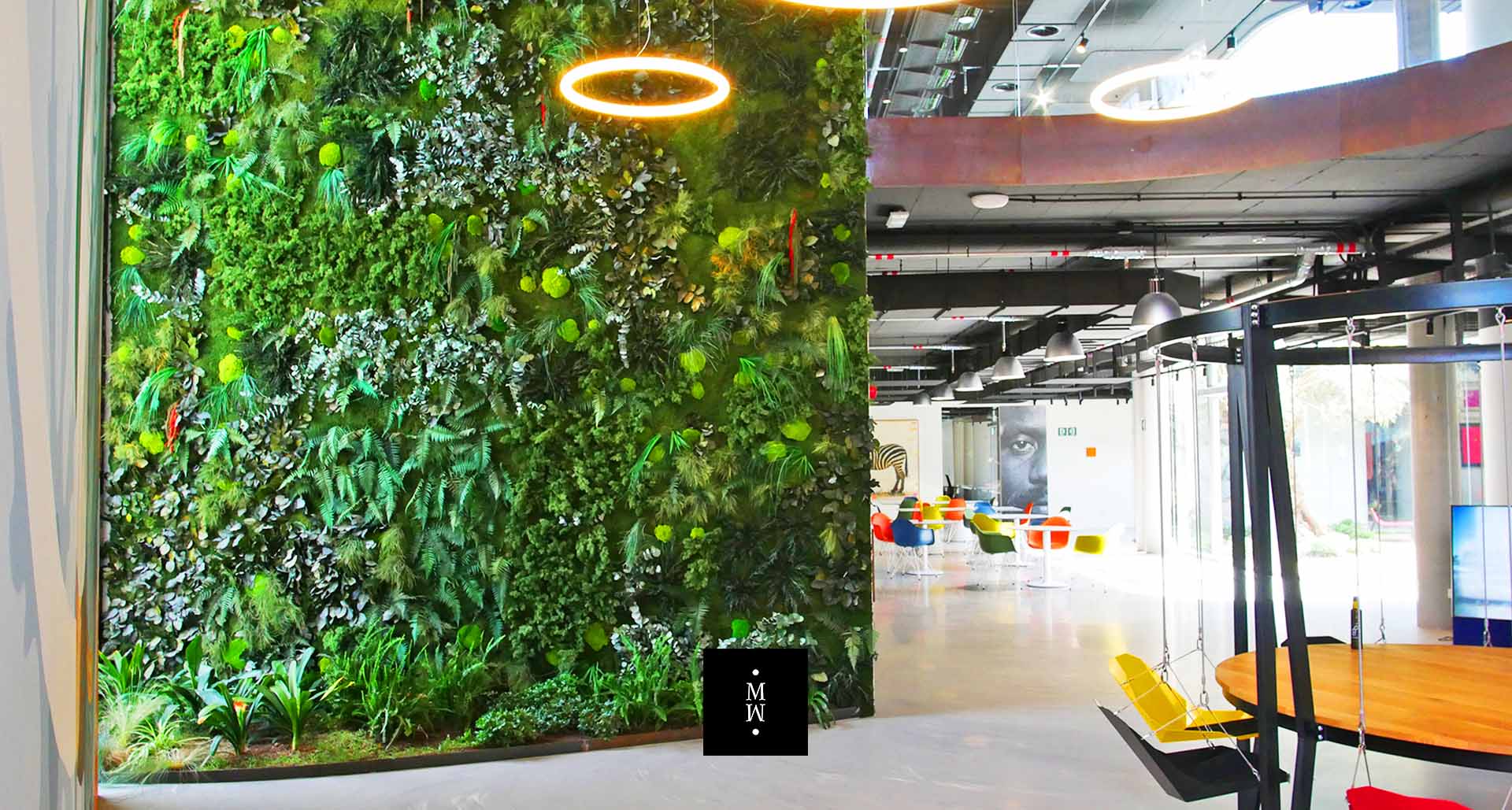 A vertical garden for Your unique interior design
Our wall tiling in a combination of moss & plants and in a jungle style. A unique combination made of Icelandic moss and ball moss. Single elements like ferns, grass, eucalyptus and also different types of Cyperus, cheesewood and tail plants will do the perfect picture. As additional accents you can add bark, twigs or stones. There are numerous combinations of possibilities. Hence Your own little moss carpet will arise which will be the oasis of your peace. With dense green colors you will intense a pleasant atmosphere in the room.
To tile a wall with moss in a combination with taxidermized plants – Your advantages
Moss wall made of plants and moss alone with a casual way how to create an unusual interior design. As a background we use Icelandic, ball or flat moss. Additionally, we combine it with single plant elements. Then as an outcome according to your preference can be a overgrown forest carpet or wild old-growth forest
Our wall made of moss particularly increases productivity, it supports concentration and contributes to inner peace. It takes care of pleasant climate in acoustics in the room. Moss and plants are of course preserved. Thanks to nature preservation process, the moss and plants remain long-lasting fresh and green. On that base, they´re also maintenance free and the moss wall will please you for a long time. With offered palette of numerous moss and plants, it is possible to adapt to every wish of a customer.
LIVESTYLE REFERENCE & MOSS WALSS with plants
100% nature of gentle harvest from North and Central Europe
unique, nature taxidermy for longevity and haptic
By using long-lasting, cosmetic, color-sustaining colorations
The level of sound reduction, according to DIN EN ISO 354, is up to 60%
Fire classification DIN EN 13501-1:2010-01