What is moss ball/ Ball moss / Ballenmoos?
Moss ball, we use, is similar to the forest flat moss. However, it has a round or semi-round shape.
In English it is otherwise called Ball moos or in German Ballenmoos. With its soft structure, the moss wall made of Ball moss causes calming impression. In its immediate area it evokes a relaxing atmosphere. Ball moss is after all a village plant which has no roots. It has existed for 400 million years and it's an inseparable part of Mother nature.  Ball moss can absorb toxic substances with its entire surface. It filters dust particles from the air.
100% nature
Our moss tiles are made of 100% nature moss which we harvest ourselves and with regards to its long-lasting sustainability – with love to nature!
The highest color brilliance
Our moss tiles are available in different cosmetic and color-sustaining variations. To reach maximum relaxing purpose for the body and soul, we recommend apple green and moss green colors.
Natural features
The appearance of our moss is unique! One of its natural features is the noise regulation with efficiency up to 60%. Plus, it even regulates air humidity in the interior. It's inspired by nature; our moss is 100% maintenance free.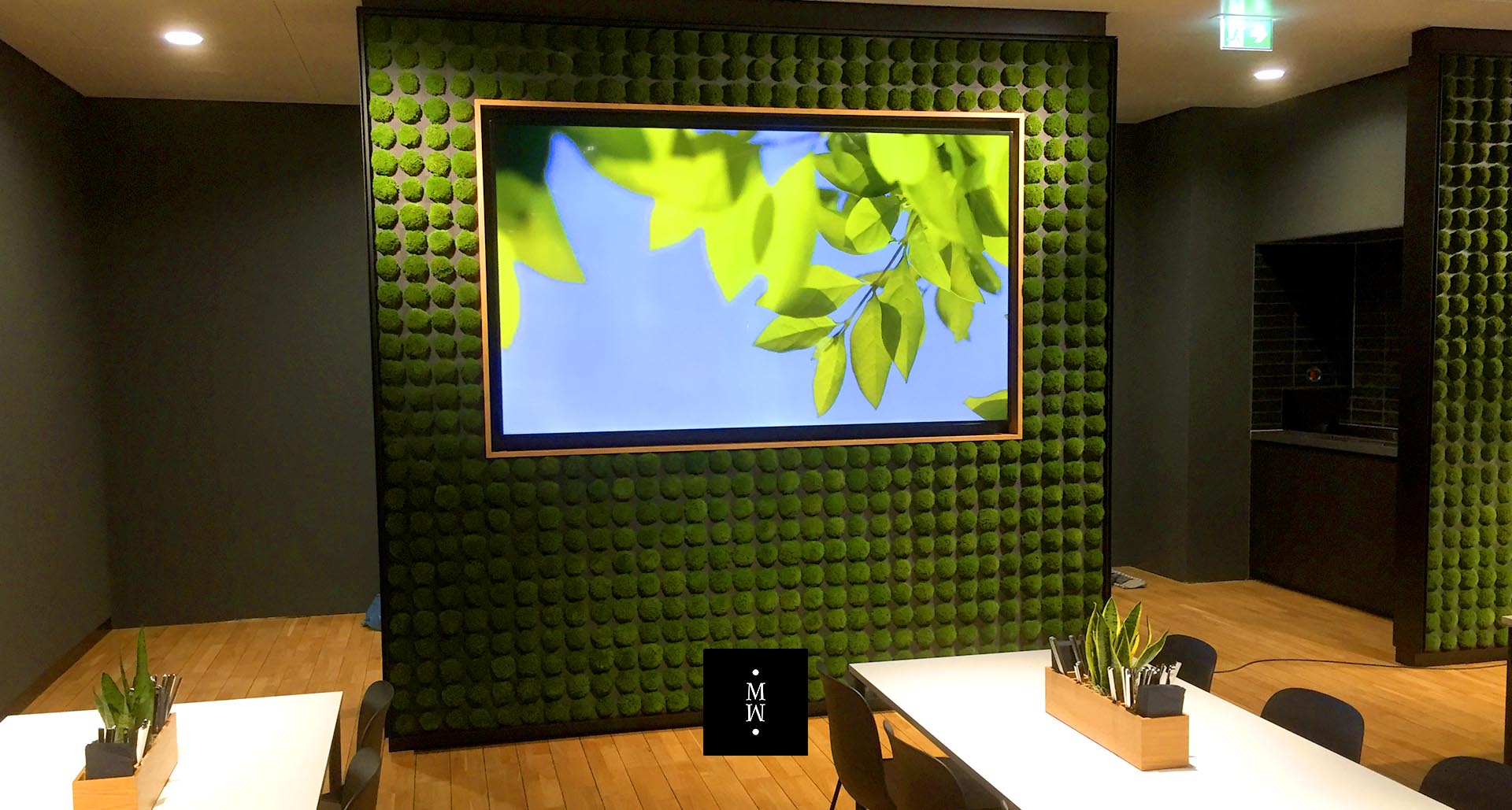 Moss wall made of Ball moss – but where does it actually come from?
The Ball moss comes from European forests. The harvest reminds you rather a collection of mushrooms because it hides under fallen coniferous and deciduous leaves. In that case the ball moss is found in mixed forests. They provide the moss the optimal air humidity. Ball moss is collected in private forests with gentle approach. In order to keep the harvest maintenance sustained it is allowed to harvest just 20- 30% of the area. This way the collected moss can grow up and we spare nature.
Moss wall made ball moss – processing
Ball moss is hand cleaned after the harvest. During the cleaning it's freed from dirt, coniferous and deciduous leaves. That way it is prevented from damaging its form and structure. After that it's naturally preserved with no harming and artificial substances. Preservation sucks the humidity from the ball moss but then it can return it into the room. Thanks to the created salty environment it doesn't create convenient conditions for animals or mushrooms.
Wall tiling made of ball moss – Puzzle system
Our patented system Puzzle perfectly fits for arranging interior rooms of small or big space. It's possible to create an infinite-long row where the joints aren´t visible between the single parts. Single segments which are put next to each other are 72 x 72 cm big. It enables to implement any project very easily. Thanks to the invisible joints between the tiles, it creates a very natural structure similar to a forest carpet. By using our edge parts, we create a very clean ending of a wall. Our MOOS MOOS team will be glad to help you with individual projects.
100% nature of gentle harvest from North and Central Europe

unique, nature taxidermy for longevity and haptic

The level of sound reduction, according to DIN EN ISO 354, is up to 60%

Fire classification DIN EN 13501-1:2010-01

Using long-lasting, cosmetic, color-sustaining colorations