Sssssshhhhh…too much noise in the office?
It gets difficult to work concentrated in an Open-Space office because of ongoing noisy scenery. Big space, smooth concrete and bare walls are calling for enhanced acoustic solution. Our moss room dividers will make sure that people could concentrate better and work more productively. They also add up to overall satisfaction at the workplace.
Room moss dividers – Maintainable, flexible and with style  
Conference rooms and entrance halls with its size and vastness often causes the feeling of cold and emptiness. Thanks to the moss room dividers you get wanted peace and harmony. Apart of that you perfectly improve space acoustic and into an unchangeable nature character.
Your nature moss hygienic concept
In accepting halls, big offices, conference rooms or canteens, a lot of people meet. So, it is even more important to take care of a professional hygienic concept. With our mobile room dividers made of different moss you optimally and in modern style meet prescribed hygienic concept.
Separating wall "Model Scooter"
Scooter = visible wheels on the bottom part of the divider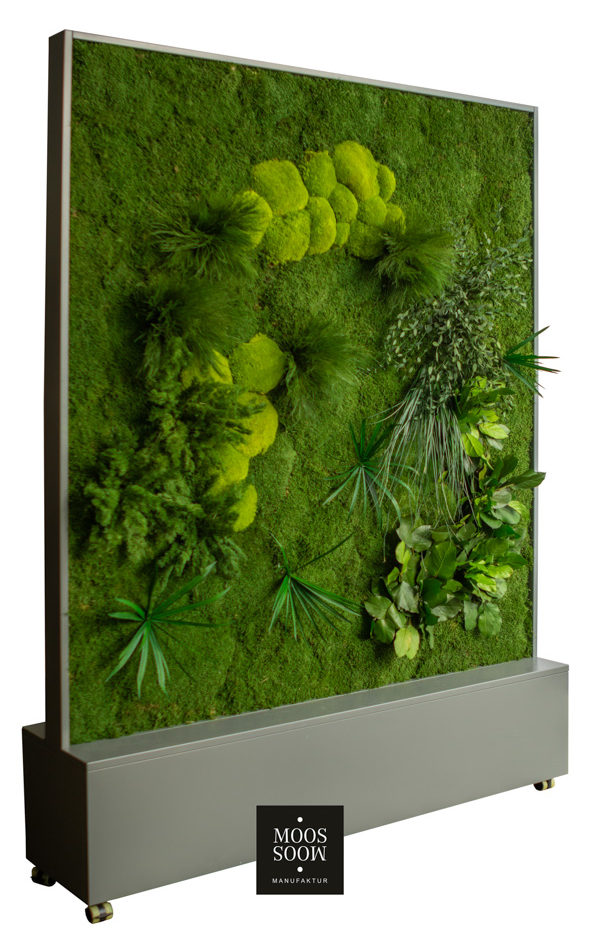 Table divider "Swiss model" with beveled Swiss edge
Our dividing wall is convincing with its 1st class quality by using materials and moss. It is convenient to assemble a dividing wall on a table. Thanks for high effectiveness of sound absorption, space can be created which are acoustically separated from each other. Just as other moss products, the separating wall also regulates humidity and air. Overall impression is completed by the Swiss edge on a hanger, which is the real unique thing.
0%
Watering – no water needed
100%
soothing for body even soul
60%
sound reduction (certified)
Separating wall "Model BIGFOOT"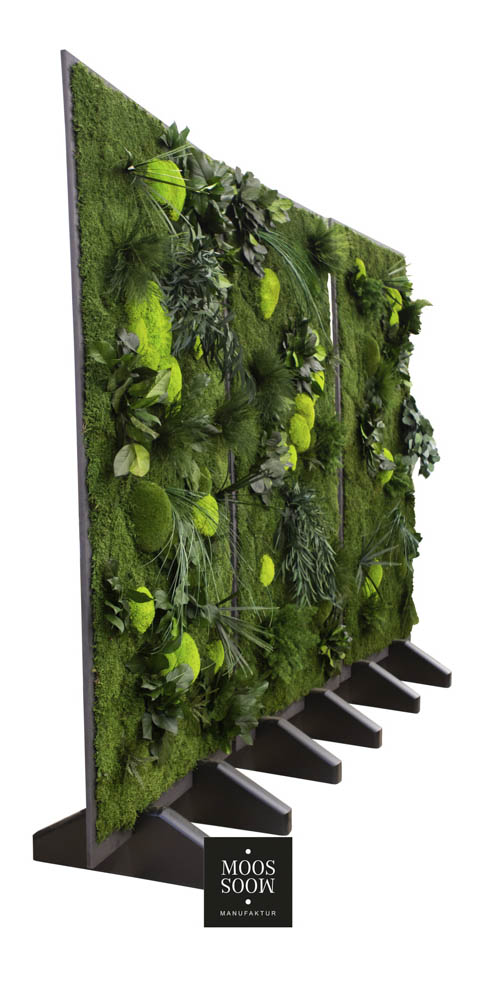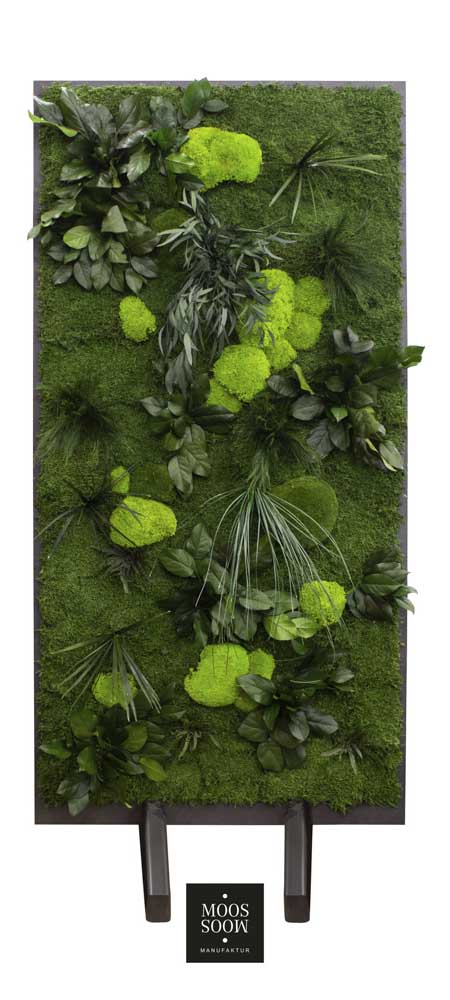 Our room separating wall will convince with its 1st class used materials and moss. Separating wall has an dispatchable hanger. Thus, it is easily possible to storage and transport.  Perfect for exhibitions and for offices. Thanks to 60% effectiveness of sound absorption, it leads to space which are acoustically divided from each other. Just as all moss products, the separating wall even regulates humidity and air. This separating wall call be covered by moss just from the one side or both sides, therefore it becomes a real unique thing.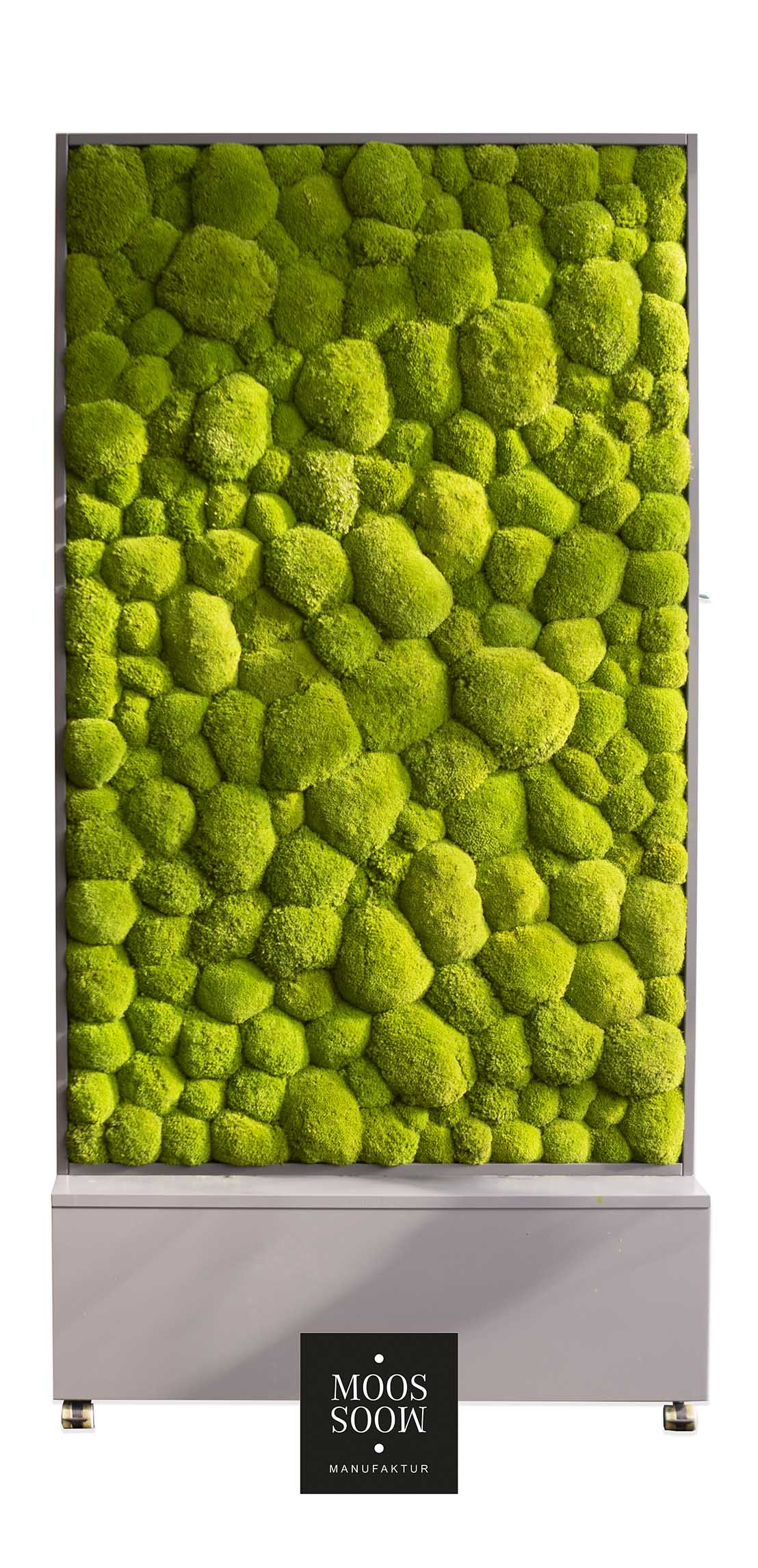 Use our room dividers for decoration & dividing room and at the same time as a sound catcher [-60%].