Since Covid-19, home office has taken on a whole new meaning for us. More and more people are taking advantage of the opportunity to work from home. Working at home sounds like paradise at first. Still, we asked ourselves, what makes a good home office workspace to be effective and focused? For you, we have collected a few valuable interior design tips on how to make your home office stylish yet productive.
A fixed workstation for more structure
The most important thing for your home office is, of course, a fixed workstation. This forms the basis for everything else. Of course, working on the comfortable couch or even in the cozy bed sounds tempting at first. In the long run, however, the boundaries between work and leisure become blurred, making you unproductive. When setting up your home office, it's important to find a permanent workspace in your own home. In the best case, set this up in a separate area so that you can easily separate work and private life. If you do not have a separate room, room dividers, screens or plants will help separate it from the rest of the living area. It is best to find a bright corner with sufficient daylight. Also make sure you have a comfortable chair and a suitable table lamp.
Effectively arrange the workplace and create storage space
The desk is the centerpiece of your home office workspace within your four walls at home. At best, it's big enough for all your important office essentials like laptop, tablet, notebook, pens, etc. For small workrooms, it's all about practical furniture and smart storage space. With additional shelves on the walls, boxes, trays or trolleys you create additional shelf space and storage. Why not be creative and create individual solutions? What works in a hotel room on business trips can be set up in a bedroom or living room with a narrow console or desk. Together with a stylish metal shelf and an upholstered chair, the whole thing looks homely and cozy.
The right lighting
Whether it's a large window or a small one, sufficient daylight is a must in a home office. Natural daylight as a light source not only saves electricity costs, it also makes you more productive and work is so much easier. Insufficient lighting can also lead to headaches, poor concentration or even depressive moods. The dark season is particularly treacherous in this respect, as it gives many people a hard time. You can remedy this with daylight lamps. In summer, you may not be able to see anything on your screen when the sun's glare is strong. Light reflections not only interfere with work, they also quickly tire the eyes. Remedy this with blinds or place your screen to the side of the window.
Matching styles, colors and materials
Colors and materials bring life to the workspace. The color design is an important aspect. A calm color mood with toned down colors and single color accents is the best combination. Use neutral colors, because you will quickly get tired of bright and flashy wall colors. Natural tones are especially beautiful in the home office. Brown, beige or natural tones to light wood create a beautiful atmosphere. Neutral colors also stimulate our brain and increase energy and creativity.
The green home office
Plants not only look beautiful, they also immediately make any room much more lively and cozy. The green has a calming and relaxing effect on your organism. This condition is also caused by our moss pictures made of real preserved moss. With our unique moss pictures you additionally set beautiful accents in your home office. They not only give a natural flair, they -just like plants- purify the air, regulate humidity and also provide balanced room acoustics. Due to the natural preservation, they have an antistatic effect and hardly absorb dust. Especially practical: For our moss pictures you need absolutely no green thumb. They do not require water, nor do they need to be cut. A small piece of forest in combination with a naturally designed working environment, lets you work more productively and concentrated. Which types of moss there are and what they can do, you can find out
here
once again.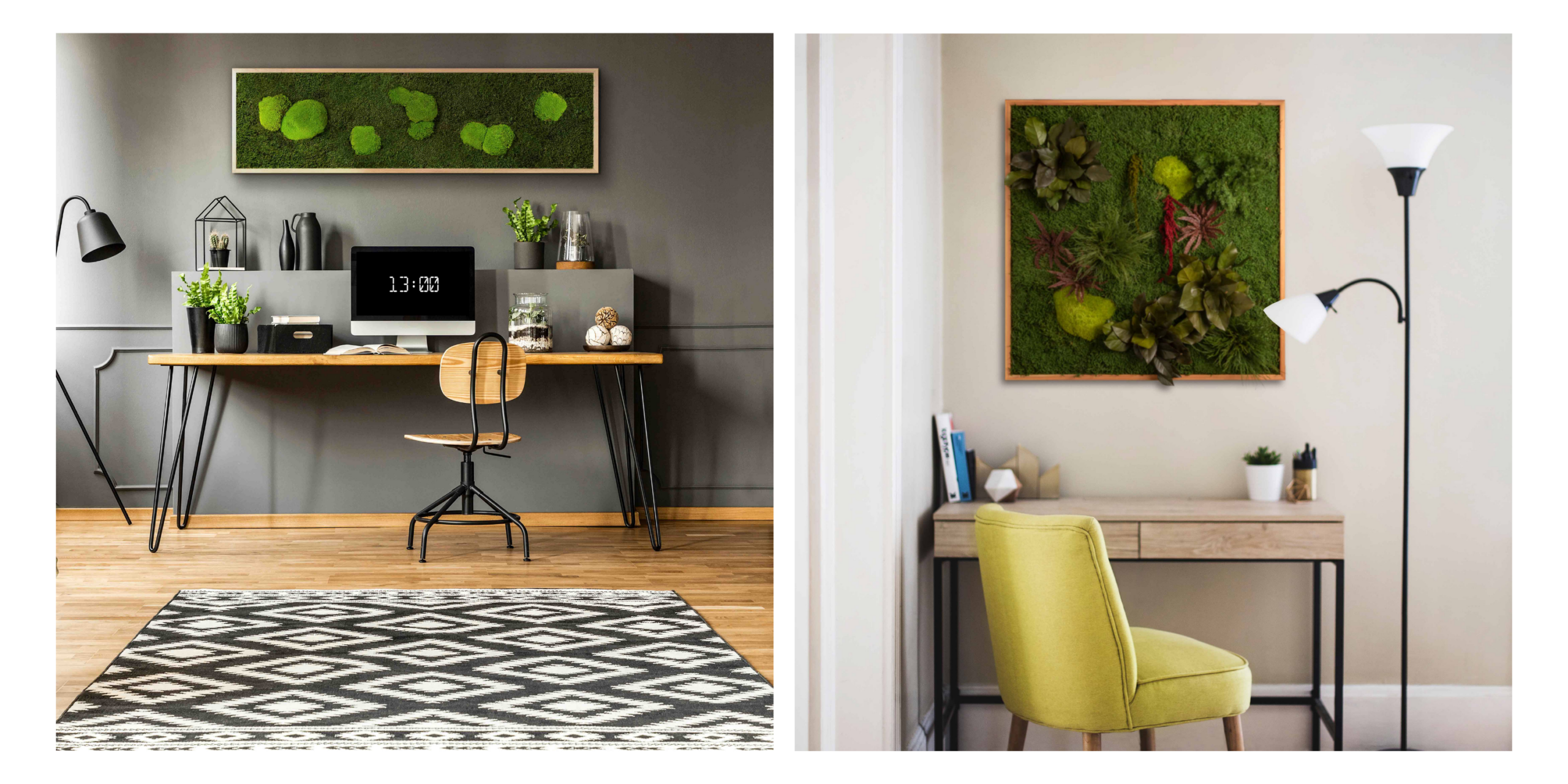 Of course, we know that the home office also comes with some disadvantages. It's tempting to get quickly distracted by mundane things. Quickly start a washing machine, do the dishes or vacuum once again. However, if you manage to set clear boundaries, you will be much more efficient and productive at home. Latest methods like Deep Work (20; 40; 60 minutes of working without disturbance) are more effective than if you are constantly disturbed and interrupted. Coordinated furniture, neutral colors and decorative elements as well as lots of greenery motivate every permanent home office employee to peak performance.
Now we hope you enjoy decorating your home office and that we could inspire you with our tips.